The Rolling Stones wear blaugrana for "El Clásico"
October 27, 2023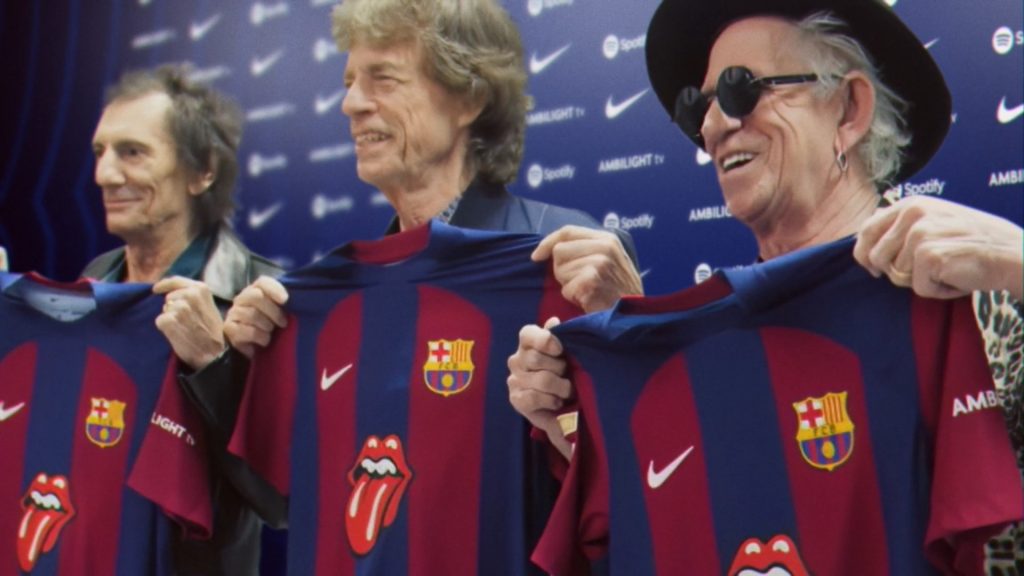 Metropolitana collaborates with Blur to make the post-production of the new Spotify ad to announce "El Clásico" this Saturday, October 28th, where they reveal that Barça will wear the famous red tongue of the Rolling Stones in the official kit.
Tomorrow El Clásico returns, where Real Madrid will face Barça in Barcelona. In the last match in which the merengues faced the azulgrana, the latter shone with the kit that was made in collaboration with Rosalía. For this clash, the Rolling Stones have been chosen for a new collaboration to promote the British band's latest album, 'Hackney Diamonds', which was released on October 20th and is their first album of new material in 18 years.
The spot features Mick Jagger, Keith Richards and Ronnie Wood proudly wearing the Barça shirt. Other first-team players such as Pedri, Lewandowski, Raphinha and Lamine Yamal also appear in the spot.
For their part, the Rolling Stones have made these statements, which can be found on FC Barcelona's official website:
"We are big soccer fans and we are honored that Spotify has taken our Tongue & Lips logo to the FC Barcelona shirt to celebrate the release of the Stones' new album "Hackney Diamonds". We'll be cheering on the players on the pitch, as well as the fans around the world who will be tuning in to watch this iconic match."
If you want to get your hands on this limited edition kit, you can get it through FC Barcelona's website or their physical store in Les Corts.
Spotify – Rolling Stones
Post-production by Metropolitana.
Credits
Brand: Spotify; FC Barcelona
Production: Blur
Agency: Anonymous Content
Director: Pantera
DOP: Albert Salas
Post-production: Metropolitana
VFX Lead: Juanra Herrero
VFX Artists: Ivan Iniesta, Lluïsa Cuchillo, Montse Capdevila
CGI-3D Lead: Nico Roig
CGI-3D Artists: Philippe G. Shibler
Color Grading: Company 3
Editor: Pau Luzón
Sound: Mate de IXYXI